Domus produces windows, doors, and laminated wood furniture, also offering integrated interior and exterior design services. The quality of these is key to establishing a solid and long-term partnership with each individual client. Combining the rich experience accumulated over the years, with feedback from customers, the Domus team is convinced that only the professionalism of the team and the quality of the products and services offered can keep Domus at the top, in the context of an extremely competitive market.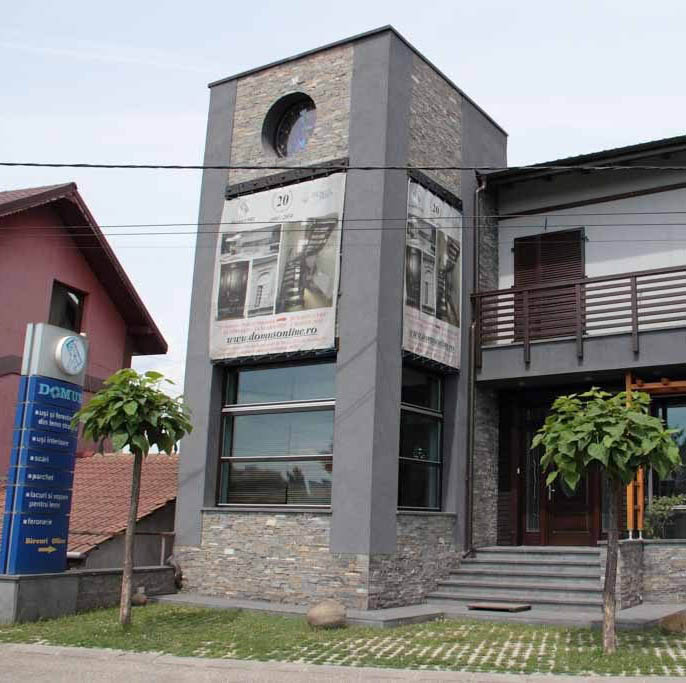 Domus offers a complete range of windows, doors, laminated wood furniture, intended for both individual customers and commercial companies or public institutions. Whether it's about furnishing homes, company headquarters, various institutions, schools and kindergartens, medical offices, the HORECA segment, shops, etc. Domus meets the needs of its customers with maximum efficiency.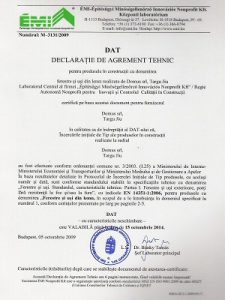 CE MARKING
When it comes to quality certifications, Domus pays special attention to details. The CE marking guarantees the product's conformity with all applicable European directives. For thermal insulation joinery, in Romania, the use of the CE Marking is mandatory starting with February 1, 2010. From this date, only windows and doors manufactured by manufacturers certified according to SR EN 14351-1:2006 for the application of the CE label can be marketed on the Romanian market. The insulating glass and thermal insulation joinery produced by SC DOMUS SRL carry the CE marking. This attests the product's conformity with the measures established by the European Community standards and their technical specifications.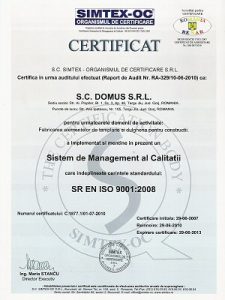 QUALITY MANAGEMENT
Considering these quality certifications, SC DOMUS SRL, ensures that all processes are subject to a rigorous quality control system. The Quality Assurance Department and the CTC Service are led by a Quality Manager. This continuously monitors all internal processes. We thus ensure that the company's products and services do not deviate from quality standards. All our customers benefit from a warranty for joinery elements for 2 years. DOMUS provides complete technical assistance even after the completion of the work, SERVICE with teams of specialists who can quickly solve any problems that may arise, as well as services in the POST-WARRANTY period.